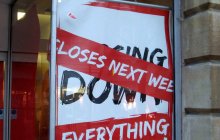 We have seen retailers that went into administration significantly decrease in 2008, but 2011 proved to be a bad year.  At the end of December 2011, it was reported that three very major retailers with a total of 552 stores and 7,485 employees announced they were close to administration.
The table below shows in summary the number of companies failing and the impact on its employees in the period 2007-2011:
| | | | |
| --- | --- | --- | --- |
| | Companies Falling | Stores Affected | Employees Affected |
| 2011 | 31 | 2469 | 24025 |
| 2010 | 26 | 944 | 10930 |
| 2009 | 37 | 6536 | 26688 |
| 2008 | 54 | 5793 | 74539 |
| 2007 | 25 | 2600 | 14083 |
As seen in the table above 2009 was the worst year, although there was only 37 companies affected which is lower than other years but this year saw the most stores affected and more importantly the most employees affected.
The major companies that have been affected in the last five years include:
Borders
Barratts
Jane Norman
Adams Childrenswear
Woolworths
Virgin
Principles
Some of these companies came as a surprise as many of these companies have been well established and very successful for many years.  The main reason for the failure of these companies has been done to the recession and the "credit crunch" that hit the whole of the world, in particular UK, Greece and USA.
The "credit crunch" saw not just retailers but companies of all types closing over night leaving many employees surprised to see the doors locked when arriving at work in the morning.  This had a tumbling effect in which many people tightened their purse strings and stopped buying luxury items.  This is why the retailer industry has probably been hit the hardest.
Once where the high streets filled with many of our popular shops saw them shut down one by one and the high street slowly became no more.
Below we look at some specific examples of business failure:
Jane Norman
A very popular fashion chain with young ladies at affordable prices.  It was a big surprise to see this company fail when it has done so well over previous years.  It was proud to have 90 shops, employing 1600 employees.  The main reason for their failure was at the back end of 2011 clothing sales dropped dramatically and not just for Jane Norman but for all retailers.  In particular Jane Norman struggled in the first two quarters of 2011 and also faced a very weak Christmas period.  This is a time when retailers would expect to be their busiest.
Floors 2 Go
This well established floor covering company which provided a range of flooring including carpets, vinyl and laminate to cover all budgets also came as a surprise.  But the reason behind the failure of this company was people chose to not spend their money on renovating their properties.  Doing up your property in these times was a luxury.  Monies were kept for a rainy day in case they were one of the unlucky ones to turn up to work to find no job.
As the two examples have shown, the "credit crunch" has had a big impact on the retailer industry in particular.
Image credit: Loses Next Wee
About the Author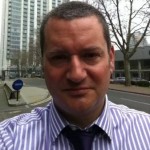 Mark Jefferson is a seasoned commercial finance professional with over 25 years' experience in financial services, much of that spent providing funding to SMEs. Mark has worked with many other firms in a similar situation to yours. Call Mark on 01451 832533 and you can also follow him on Google+