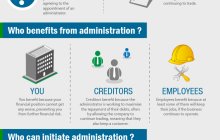 Administration Infographic – A new take on understanding how Administration works – An infographic by the team at Business Recovery
Embed Administration Infographic – A new take on understanding how Administration works on Your Site: Copy and Paste the Code Below
Administration Infographic – A new take on understanding how Administration works – An infographic by the team at Business Recovery
There has been so much talk and confusion regarding administration, so we have found a simple way to explain what it means. The infographic above highlights in brief what you need to know about administration and what it really means. A common misconception is that administration means the end of a business, most likely because this has been the situation in some of the recent high profile cases. We can see from the above that administration can actually protect a business currently under the weight of immense legal pressures from creditors. The job of the administrators is to take over the management of the business (usually a large firm) and try to pay off the debts as quickly as possible.
Administration occurs when a court orders or permits a business to come under the control of an insolvency practitioner. This could be at the request of the directors of the company, or the outcome of legal proceedings. The administrator will recover as much as it can for the creditors, making use of the available resources, which could involve selling the business. In order to protect itself during this process, the company should seek professional advice before agreeing to the terms of the administration. This is important if the business wants to continue operating during or at least after this process.
Administration can be good for the business as it prevents further legal action from being levied against it, while it gets much needed help in repaying its debts.  The creditors also get some of their money back, if not all of it. Depending on the success of this period, the employees and customers will also benefit.
Once the process has been concluded and the administrators have fulfilled their objectives, the business will need a fresh injection of cash to start moving again. If operations never ceased it is easier to work off this momentum. To get your cash flow back in the positive, you could either go back to your creditors, or seek advice from professionals such as ourselves.
About the Author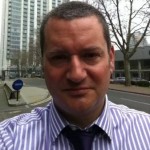 Mark Jefferson is a seasoned commercial finance professional with over 25 years' experience in financial services, much of that spent providing funding to SMEs. Mark has worked with many other firms in a similar situation to yours. Call Mark on 01451 832533 and you can also follow him on Google+