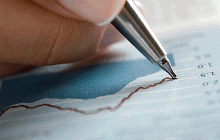 A nightmare scenario for any business owner: one of your biggest customers goes bust owing you thousands of pounds.
Initially they become difficult to get hold of and when you do manage to speak with someone, they're either evasive or make promises that aren't fulfilled.
Frustrating days and weeks go by. Managing your cash flow becomes an even bigger headache than usual as you wait for those long-overdue invoices to be settled.
Then the dreaded news arrives. Your customer has gone out of business. The thousands they owe you are nothing compared to their debts elsewhere. You're forced to join a long queue of other creditors, all empty handed and all unlikely to receive more than a few pence in the pound – if that – when the mess is sorted out.
Avoid the domino effect of business failure
When a company goes under, it threatens to take at least some of its suppliers with it. If you can't afford to run your next payroll because a major customer has failed to pay their bill, your business is in trouble.
It doesn't matter that your firm is profitable and has great prospects. If you can't pay staff, they'll stop working, and if you can't pay suppliers, you'll run out of resources.
Businesses fail because they run out of cash, even if they are making profits. The collapse of one firm, perhaps due to poor financial management, can have a knock-on effect on others, even if they were more prudent.
Surviving potential business failure means acting now
If you believe you are at risk of having a customer go bust leaving substantial outstanding debts, you should prepare for it now.
Delaying during those weeks of uncertainty, when you're hoping for payment to arrive and fearing the news of insolvency, could determine whether your own business is able to continue trading.
Even if your customer does eventually pay, by stretching their credit terms, they may have compromised your cash flow to a point that it is difficult to recover from.
Don't let failure of another bring you down
If you're faced with real concerns about the future of your business, because of cash flow problems, why not give Mark Jefferson a call right now?
Mark's worked with hundreds of business owners in a similar position to yours. He's helped them to recover the situation, using his years of commercial finance experience to help them source alternative funding, often at short notice.